The Curious Death of Frank Fish
Mid-century treasure hunter Frank L. Fish is conspicuously absent from the history of Amador after his death. Although friends and residents recall the tarantulas and caged rattlesnakes surrounding his museum, a Google search of the Fleehart Building that once housed Fish's Gold Rush Trading Post & Museum of over 10,000 artifacts and antiques is free of his mention. You'll find that the Fleehart Building was built around 1855 by William Fleehart, a Wells Fargo Agent. There was a fire in 1878 that failed to destroy it. Then, you'll see that it was bought by Jerrold Whitney in 1983 and is, as of 1993, the Amador Whitney Museum about women of the gold country. So, what about that time when the oddball owner of the Fleehart Building mysteriously died and the museum was ransacked of priceless rarities? No mention? Ok.
Frank Fish was a highly successful at finding treasure and authored a cute little yellow guidebook called "Buried Treasures and Lost Mines." His friends wrote numerous articles about him and catapulted his book of doodles and maps to temporary fame. It stands to reason his thrust into the spotlight generated some envious folks and enemies, especially when Fish claimed to have one of two copies of the legendary Peralta Map.
The Fish family relocated to an Oklahoma farm shortly after the birth of Frank Lawrence Fish in Illinois in 1900. His parents, John T. and Mary, had an older son, John Walter Fish. The family worked the farm and little Frank's foray into treasure hunting came when, in his own words, "he discovered an old buffalo hunter's camp, abandoned many years before. The pile of bleached buffalo skulls and the partially buried old rusty Spencer carbine, to the young hunter, was a real treasure find."
While brother John took over the family farm, Frank took off to art school in Kansas City. I'm not entirely sure if Fish went to Los Angeles before going to Seattle, because his mother died in Los Angeles in 1924. In 1930, he shows up as taking a job in Seattle at the Electrical Products Corporation of Washington, a neon sign maker turned defense plant, marrying the lovely Dorcas Minerva Bloom of Pennsylvania and enjoying the birth of his son, John Willard Fish. There's another Electrical Products Corporation plant in Los Angeles (as well as Oakland and San Bernardino) which is where Fish ends up shortly after his son's birth. His friend Lt. Harry E. Rieseberg says Fish worked as a photographer at the defense plant, but Fish describes his work as an illustrator and cartoonist. An art student can dream.
At this time, Fish is off hither and yon, using up all his vacation and personal days, wishing telecommuting was a thing, and making friends in high and low places. In 1932, he states he used a "crude metal detector" at his Smokey Nugget Claim in Last Chance Canyon, about a two hour drive from Downtown LA, and found placer gold. In search of the legendary Lost Dutchman's Gold Mine purported to be in the Superstition Mountains of Arizona, Fish contacted Erwin Ruth, a cattle inspector, about his copy of the Peralta Map. Ruth told Fish to stay away from the Superstition mountains because people get killed there, including his father, Adolph Ruth, who was found decapitated. Not heeding this warning, Fish traveled to Mexico to buy a map from the Peralta family and ended up getting shot at in the Superstition Mountains.
By 1958, Fish had amassed enough of a collection that he opened up the Gold Rush Museum at the Buffalo Ranch in Costa Mesa. It seems his wife stayed in LA with her father and his son left for New Mexico. In 1959, his friend Erie Schaefer suggested he move his collection into the Fleehart Wells Fargo building in Amador, CA for authenticity and probably because there's a heck of a lot more gold up north. His move was either wise or necessary because in 1959, the dastardly Irvine Co. canceled the Buffalo Ranch's land lease and the buffalo moved back to Kansas from whence they came. Those buffalo got off easy because Southern California animal themed attractions have a history of ending terribly. Well, some of them did get turned into burgers.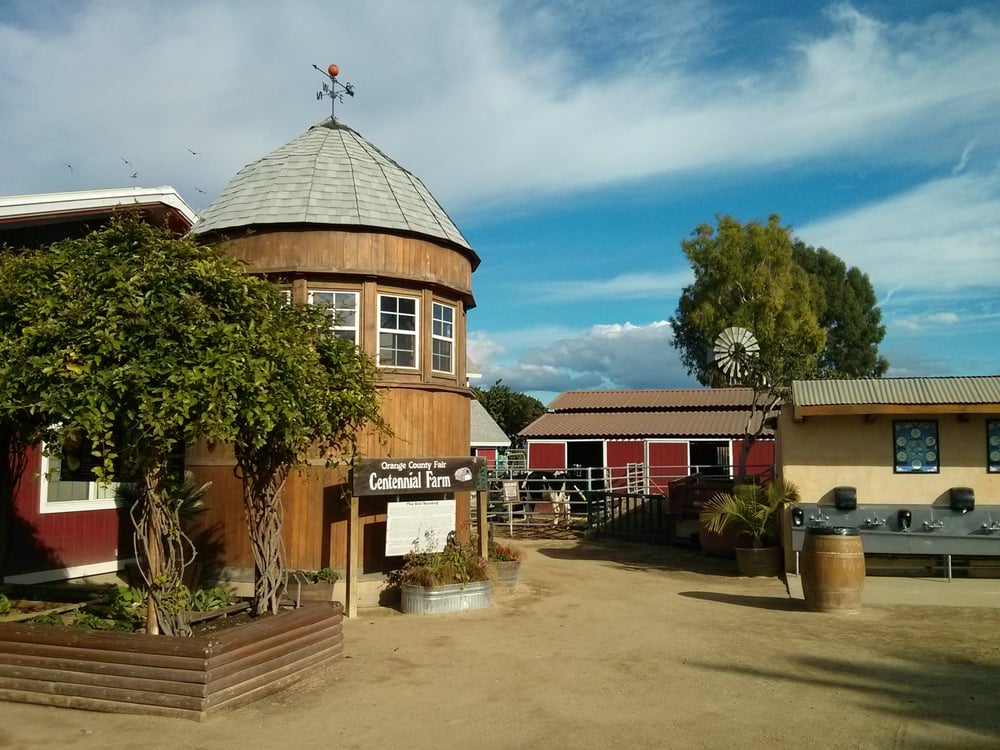 So Frank Fish is living the life in Amador. His collection fills the Fleehart Wells Fargo building whose "antique old shelving, worn plank floor, secret gold vault under the floor and paymaster's office are still intact-." In 1961, he authors "Buried Treasures and Lost Mines." Various magazines and newspapers around the country are talking about him and thousands of vistors make their way to Gold Rush Trading Post. He's staying in a trailer behind his museum and tells folks that he's found this $10k treasure and that $20k treasure. The locals think he's a paranoid silver-gun-toting eccentric, but Erie Schaefer, who authored "Dead Men Do Tell Tales" about Fish's death, said he had good reason.
Close friend Ben T. Traywick, an old west historian and author, states that he had visited Fish in 1962 and early 1963. Fish told Traywick that he had a good lead on a $600k loot in Columbia, CA. Fish had recently found, as Lt. Rieseberg describes, "several leather sacks of gold nuggets and dust; a necklace with crude, matched gold nuggets; a gold ring, a stickpin inset with diamonds, opium pipes, many glass vials with the dried-out dregs of the drug, 2 rotted pistols, Chinese knives, Mexican daggers, and a skull with a bullet hole in its back" and "an old bronze kettle that contained 6 small bars of pure silver and a blackened mass of silver coins" at an abandoned cabin near where Fish suspects the bigger treasure lies. Traywick says Fish seemed as happy as ever so the story of Fish's April 7, 1963 death came as a shock.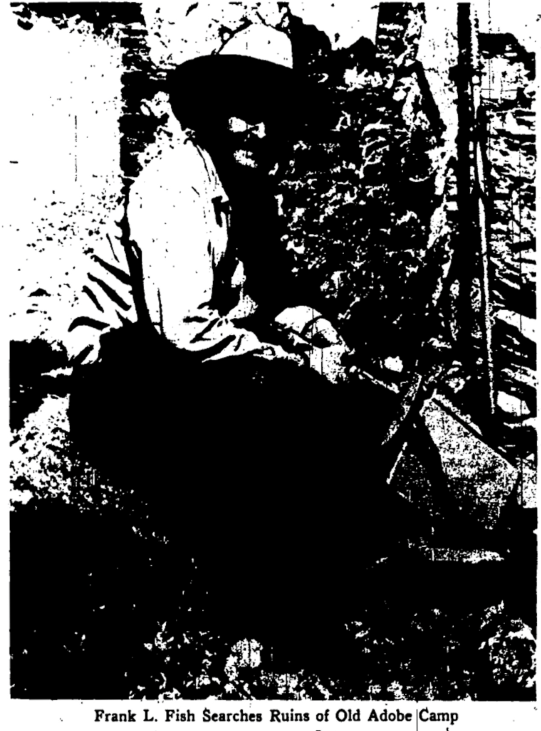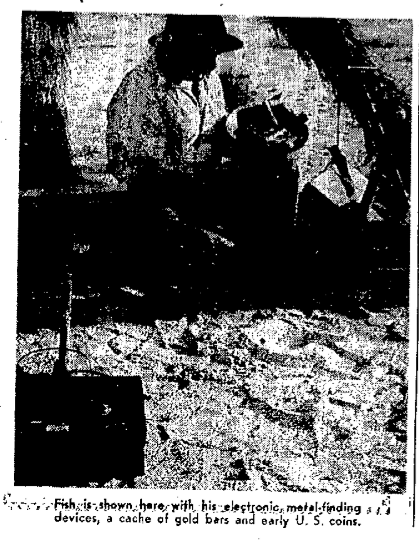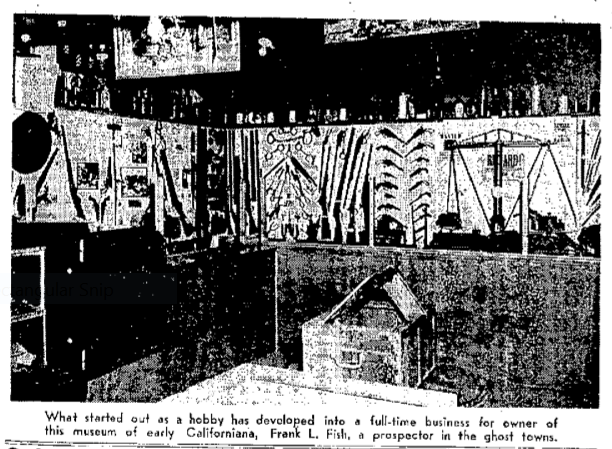 The night before his death, a series of phone calls were made to the Amador Hotel. Fish had not been answering at his museum so an employee at the bar, tired of all the phone calls, walked to Fish's trailer at 2 o'clock in the morning about a "life and death matter." At the bar, Fish sat listening to the caller. He spoke little, hung up, and walked back to his trailer.
A gun shot wound through the back of his mouth and a shaky suicide note in his trailer. That's how Frank Fish died according to the Amador County Coroner. Open and shut case of a man clearly bothered by his diabetes. Oh, his museum was robbed, too, but, yeah, suicide. Obviously.
The suicide note (that son John sent to a handwriting expert who declared it a forgery) read: "I do not feel I can go on. Erie, please have the water at my trailer tested for poison and an autopsy performed on my body." At the top of the note, it read, "To my son, John, who didn't even come to see if I was alive or dead! Leave sum of $5 only." Erie Schaefer and her husband, Bill, were in Amador seven hours after the discovery of Fish's death. Having extensively photographed his collection prior, Schaefer knew what was missing from the museum and notes that it would go on to be burglarized eleven more times. She speculates that Fish was murdered for his copy of the elusive Peralta Map.
John Fish wrote a letter to the coroner reasonably complaining that the investigators failed to photograph Fish's body in his trailer, run a ballistics test, check for gunshot residue on his hand, or even perform an autopsy. In the coroner's report, there was no mention of the highly suspicious and harassing phone calls, nor of the two individuals John claims were witnessed in Fish's trailer that night. John also asks, if it was a suicide where the hell is his dad's gold piece necklace he always wears? The coroner ignored John Fish's questions, but replied that the necklace resurfaced and they'd send it.
Maybe Frank Fish did kill himself, but ask yourself, why were the investigators so quick to declare his death a suicide despite all the incredibly suspicious circumstances? Are they the most bumbling, idiotic detectives ever? Were they just thankful the prospector was dead and didn't want to bother working on his case? Or, were they covering something up? His friends and family all insist he was a happy guy, excited about his upcoming adventure, so suicide seems out of the question.
Who was calling Frank Fish? Who had the most to gain from his death and why include that tidbit about leaving John just $5? Why is there no mention of him in the local history guides and ghost stories, especially ones about the Fleehart Building? If you're telling ghost stories, I'd figure a guy like Fish and his violent death would haunt something. Perhaps he's haunting the historic Jackson City Pioneer Cemetery where he was buried.
Frank Fish had a lot to offer this world. He chased after his dreams, achieving them through hard work, cunning, and luck. He dared to share his passion of history and wild stories of adventure with the public. One way or another, his passion killed him.
Closing Credits
1910 U.S. census, Valley, Canadian Co., Oklahoma, pop. sch., ED 99, p. 4B stamped, dwell. 69, fam. 70, John T. Fish, Mary E. Fish, John W. Fish, Frank L. Fish.
1920 U.S. census, Valley, Canadian Co., Oklahoma, pop. sch., ED 106, p. 5A stamped, dwell. 79, fam. 79, John T. Fish, Mary E. Fish, Walter J. Fish (John W.), Francis L. Fish.
1930 U.S. census, Seattle, King Co., Washington, pop. sch., ED 17-103, p. 34A stamped, dwell. 311, fam. 726, Frank Fish, Dorcas Fish, John W. Fish.
1940 U.S. census, Los Angeles, Los Angeles Co., California, pop. sch., ED 60-84, p. 63A stamped, household 511, Frank Fish, Dorcas M. Fish, John W. Fish.
Anderson, Scott Thomas. "The Fury of Frank Fish" The Sierra Lodestar, 10 October 2010, scottthomasanderson.com/furyoffrankfish.php
Anderson, Scott Thomas. "The Fish Papers" The Sierra Lodestar, 31 October 2011 scottthomasanderson.com/thefishpapers.php
California Death Index, 1940-1997 database, entry for Frank L. Fish, 551-071-1245; derived from State of California, California Death Index, 1940-1997, Sacramento, CA, USA: State of California Department of Health Services, Center for Health Statistics.
Fish, Frank L. Buried Treasures and Lost Mines. Chino, CA, Amador Publishing Co., 1961.
Krieg, Al. "A Visit to the Gold Rush Country." Oakland Tribune, 3 Sept. 1961.
Lt. Rieseberg, Harry E. "Ghost Town Prospecting Still Pays." Independent Press-Telegram, 20 Jan. 1963, p. 5.
Lt. Rieseberg, Harry E. "Prospecting Still Pays." Grit , 12 May 1963, pp. 1–24.
Robinson, Doris. "Mother Lode Country Has Colorful History." Medford Mail Tribune, 12 November 1961, section 6A.
Traywick, Ben T. "Frank Fish's Last Treasure Hunt."The Tombstone News, thetombstonenews.com/frank-fishs-last-treasure-hunt-p2035-84.htm.